ExpertPower蓄电池EXP12200 12V20AH尺寸及价格
物品详情
物品状况:
全新:全新、未使用、未开封、未损坏的物品,采用原包装
物品状况:全新
寿命:3-5年的浮动和备用使用兼容品牌:UB12220 51913 12896、UB12180、GP12170、NP18-12
牌:专家力量MPN:BLRFM12_20
容量:20Ah电压:12V
电池类型:可充电的充电温度:-20°C 至 +50°C(4°F 至 122°F)
安全:UL、CE、DOT 和 ISO 认证制造国家/地区:越南
类型:可充电电池适合:UB12220 51913 12896、UB12180、GP12170、NP18-12
工作温度:放电:-40 °C 至 +60 °C(-40 °F 至 +140 °F)模型:BLRFM12_20
Official ExpertPower Affiliate
External Durability // Internal Quality // Complete Reliability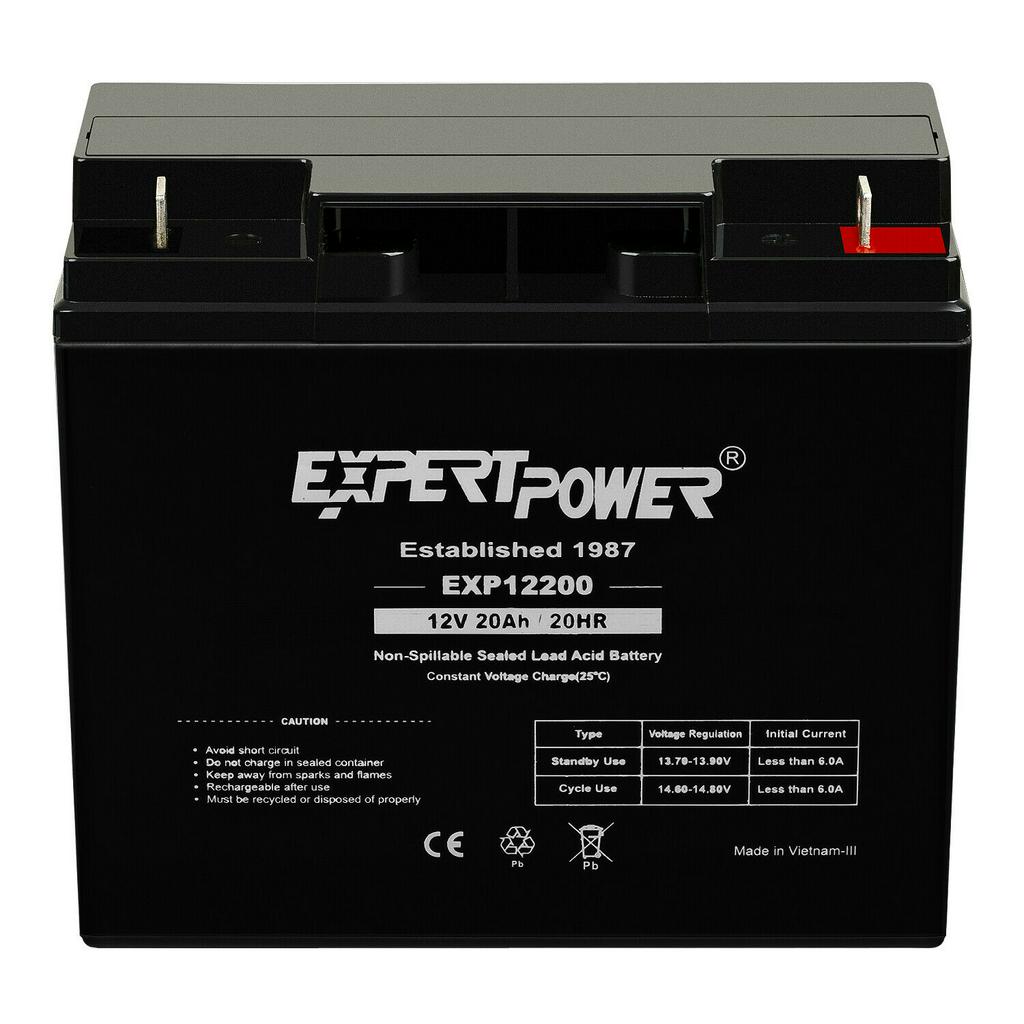 One Year Warranty
Free Shipping
30-Day Returns
Expert Power 12V 20AH / 20Hr Sealed Lead Acid Battery
Part Number: BLRFM12_20
Genuine Expert Power Battery
Maintenance-Free and Valve-Regulated
Ultra Durable and utilizes AGM Technology (Absorbed Glass Mat).
User-Friendly - Easy, One-Time Installation.
Long Shelf Life
High Discharge Rate
Long Service Life
Terminals: Nuts & Bolts
Typically Used For: Home Alarm Systems, Uninterruptible Power Supply(UPS), Lighting Equipment, General Electronics,
Home Security Systems, Emergency Systems, Medical Devices, Electric Scooters, Solar Collectors, Wheelchairs and many Other Applications.
These batteries are one of the most trusted and highest reviewed sealed lead acid batteries on the market. It's rugged construction is made up of non-conductive ABS plastic which is resistant to shock, vibration, chemicals, and heat. It features AGM technology which allows the battery to be spill-proof and maintenance-free. Our batteries come with a 30 day worry-free return policy on all defective items, along with a one-year limited warranty! For inquiries, feel free to contact us.
Payment
Shipping
Returns
Contact Us
PaymentShippingReturnsContact Us
We accept payment by any of the following methods:
PayPal
Visa
Master Card
American Express.

We accept credit card payment for US orders only.
We do not accept non-US credit cards.
For International Orders, we accept PayPal Only.
We offer FREE shipping on all orders!
We ship directly from our facility in Paramount, California.
Once payment has cleared, orders will be shipped the same day if placed before 8:00 AM PST (Monday- Friday). Otherwise, it will be shipped the following business day excluding holidays.
IMPORTANT INFORMATION ON DELIVERY DATES:
***Estimated delivery dates are provided by eBay and not guaranteed, however most items are shipped via USPS Priority Mail***

If additional postage is due upon receipt, please contact us prior to rejecting the package or payment of the package. We will not be responsible for the cost difference if payment is made prior to contacting us.
All of our items comes with a One Year Limited Warranty:
We provide a 30-day money back guarantee on defective items. Restocking fees and other fees may apply upon the condition of the returned item.
The warranty does not cover damage caused by accident, abuse, neglect, modification, alteration, misuse, repair, or physical damages.
All NON-SELLER mistakes / returns are subject to a minimum of 20% restocking fee and the buyer is responsible for all return shipping expenses.
Items that have been forwarded outside of the U.S will not be covered by our warranty.
We are available Monday through Friday from 10:00AM to 5:00PM (PST) to answer any questions you may have regarding our policy, products, prices, shipping and handling fees, warranty and return details.
Please contact us by clicking our eBay ID "MonsterPowerPro", then "Contact Member" during our business hours.
Thank you for visiting
MonsterPowerPro!